New Year's Eve in Venice is an unusual event, because Venice is a very peculiar city. This event in Venice is a an opportunity for an holiday to discover one of the most beautiful city of the world. In this post we would like you to find out the most important things to know for planning your vacation for the New Year's Eve 2024.
What is the meaning of New Year's Eve in Venice?
During this event Venice reaches the maximum of tourist presences (beside Carnival), with vacationers coming from all over the world to enjoy the show. The city has already reinvent itself since 8th December, when the streets, squares and shop windows are colored with Christmas colors, a pleasant approach to the great party in Piazza San Marco for New Year's Eve.
The huge variety of visitors coming from all the continents of the world makes the atmosphere even more special than usual.
For this reason New Year's Eve in Venice is not only an event, but a real once-in-a-life experience. In order to better see the city, it is suggested to plan an holiday of at least 4-5 days.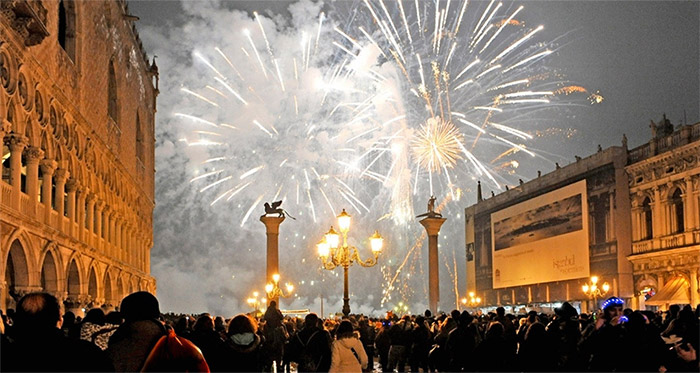 Flight, accomodation and planning
The first step is choosing when to go to Venice.
Then, the second step is to check the availability of flights or trains for the chosen dates, as the means of transport are the first to go sold-out on these occasions, since many Italians set off for the winter holidays.
In the last step you have to think about the accommodation, and finally – in a more relaxed and fun way – about your holiday itinerary.
Flights and trains
Flights and trains are the two main ways to reach Venice. Arriving by car is not recommended for the excess of parking costs, except the casethat your trip to Venice is just a part of a wider itinerary.
Pay attention for the airports: flights to Venice from Rome, Milan, Turin and other Italian cities are generally direct, but in the case of flights from outside Italy extremely low offers could hide one or more stopovers to be considered.
For the trains instead, you can take a look the Trenitalia website, and check availability for the chosen dates. The train is a comfortable for small-medium distances and it allows you to arrive directly at the Santa Lucia station, in the heart of Venice. Directly outside the station there is also a ferry boat stop, so you can arrive easly to the different part of the city without walking.
Accomodations: hotel, apartments and boarding houses
For what concerns the accommodation you have to deal with prices and availability, which increase very quickly as the New Year approaches. Booking at least 4-5 months in advance guarantees a greater choice at cheaper prices. It is difficult to find last-minute offers for New Year's Eve, due to the strong demand that leaves only few rooms uncovered.
Here there are some tips to keep in mind when you have to choose your accommodation during the winter in Venice:
the proximity of the structure to a pier for the ferry boat can be very convenient, because you will do that route every day, perhaps with cold, rain or worse: high water.
the closer you get to San Marco Square the more expensive the accomodation will be. By remaining in less touristy areas (if we can say so), you are able to find cheaper structures that offer the same services.
if you choose a peripheral structure for save money, make sure it is handy to water connections, or that the walking path that takes you into the heart of the city is sustainable (think you have to do it at least 4-5 times a day to move to and from hotel)
Avoid to spend money on full-board or half-board services (except in special cases such as the presence of small children, who have special needs); First of all, you are bound to return to the hotel at fixed times, and they take away the pleasure of eating in Venice, in the innumerable taverns, bacari and typical restaurants with excellent cuisine. The typical accomodation in Venice is the bed and breakfast.
Best places to stay in Venice
In the following session you can find some interesting hotels where you can stay during your stay for New Year's holidays. They are hotels that we have had the opportunity to experience personally, moreoverthe reviews from the readers of the site are preatty good.
But first of all there is a necessary premise to do, in order to help you to better understand the standards of accommodation in Venice. Except for the luxury facilities, where you will hardly have problems beside the price, the most common structures (2-3 stars) are often located inside palaces and historical buildings, so there are not so spacious. It could be necessary to make stairs to reach the highest floors, and the elevator is not always present in structures protected by environmental assets. So if you are young and in good shape you will not have any problems, but if these factors can be an obstacle, check before booking whether the hotel has everything you need.
Hotel Henry
This small hotel has a good position, close to the ferry boat station of S. Marcuola. The position makes it very handy for moving to Rialto / San Marco, or in every direction. It is in a quiet area, outside the touristic noisy area. It is not a luxury hotel but it has a good value for money, especially for its location.
Ca' Pedrocchi
This hotel has an excellent position, two minutes to St. Mark's Square and Rialto, and from the main ferry boat stop. The main advantage is that you can easily come back to the hotel whenever you want for a shower and then you can go out again without wasting of time. Perfect location, good price and high standard on cleaning service. This is the best choice if you want to spend your holiday discovering Venice but saving your money.
Hotel Pausania
Very nice and clean hotel, including breakfast, and on a "right" position, meaning that its located in a quiet area, but comfortable enough to walk around the old town. Here we have also breakfast included and an efficient Wi-Fi in the rooms. Staff is very friendliness and helpfulness, the area is full of typical places where to eat.
Find out all the hotels of venice for the New Year's Eve
Note: the hotels can be booked directly online, thanks to the Expedia partner website, on the page of the accomodation you reach with the links above. Check to see if the room has a free cancellation policy, which allows you to cancel the reservation without costs within the total number of days from the holiday. Despite our experience has been positive, verified the reviews and opinions of other travelers before booking, so you can also check the opinion of many guests.
How to celebrate New Year's Eve in Venice
It is not a simple issue at all, because Venice is a city full of ideas, the personal tastes of each one definitely makes the difference.
St. Mark's Square and the big party
The big party is in St. Mark's Square, where a lot of people gather as the midnight approaches. Here people wait to celebrate the new year together and they make a feast and exchange good wishes and kisses.
It is precisely the kiss that in recent years has characterized the last night of the year in Venice with the format of the evening "Love". A large stage is set up in the square where from 9 pm to about 11.45 pm different singers and artists perform every year, and then wait the moment to exchange passionate kisses for the new year.
After the show and the kisses, there are the fireworks, shot directly from a barge in the St. Mark's basin. It it a very suggestive and romantic show.

Organized events
As an alternative to the typical celebrations in the squares, an intriguing opportunity is to participate to one of the several events organized in Venice for New Year's Eve.
These celebrations are attentively organized and arranged in terms of venue, catering and entertainment.
Events in Venice generally take place in historic palaces and buildings cheerfully adorned for the party, and are based upon meticulous organization aimed at offering a full experience to its partecipants.
We strongly believe that it is be a valid opportuinity to partake in an unusual event where you can meet people and simply have a good time. You will not need to worry about the cold and the weather, the time and what to eat.
The picturesque location and mindful organization will be able to further enhance your experience.
Just choose your outfit and let yourself be carried away by the event!
We have selected for you some events for an organized 2024 New Year's celebration.
The following two noteworthy events are hosted by a tour operator who curates every aspect of them
Both include the entire New Year's Eve evening thoroughly organized in peculiar venues of the city.
The price is, in our view, entirely appropriate, even more so if you book the event in advance thanks to the early booking discounts.
Hoperà, Oficine 800 Gran Galà – Gala Dinner + OPEN BAR party

Learn more and book your New Year's party at Venezia Hoperà
Palazzetto Pisani – Gala Dinner + exclusive party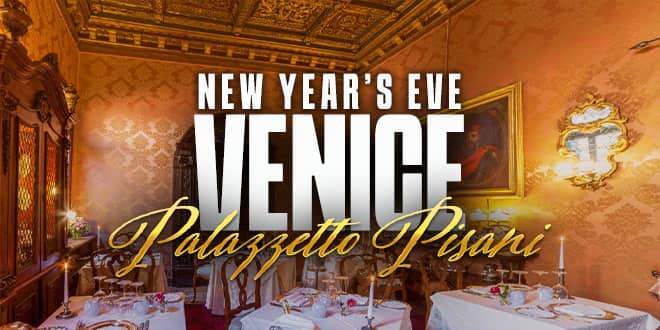 Learn more and book your New Year's party in Venice at Palazzetto Pisani
Where to eat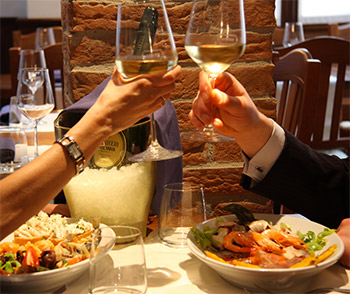 First of all, you can choose to have dinner in one of the city's restaurants, but the
reservation of a table is strongly recommended
.
You should book before you leave, well in advance, to be able to find a place, especially if you travel with a lot of people.
Othervwise you can choose a tour of the various taverns and bacari to taste the typical typical dishes, drink a few glasses of wine (you do not have to drive!), and live different situations of the New Year's Eve in Venice.
After midnight
For what to do after the fireworks it depends a lot on what you are up to.
If you are looking for party and fun, Venice is not the right place, because there are no disco in Venice. Instead you can spend your night with venetian people and their spirit in one of the numerous pubs of the city.
But if you are looking for something more relaxing and/or romantic, in Venice you have whatever you want.
A nice and cheap activity could be a tour of the city on the ferry boat, you will be indoors and you will have a one-in-a-life experience. Another alternative is to have a gondola ride. In fact, a fascinating gondola tour in Venice is ideal to admire the majestic architectural masterpieces that overlook the water, the bridges and the magnificent views. You will discover the most suggestive areas of this city through the narrow canals!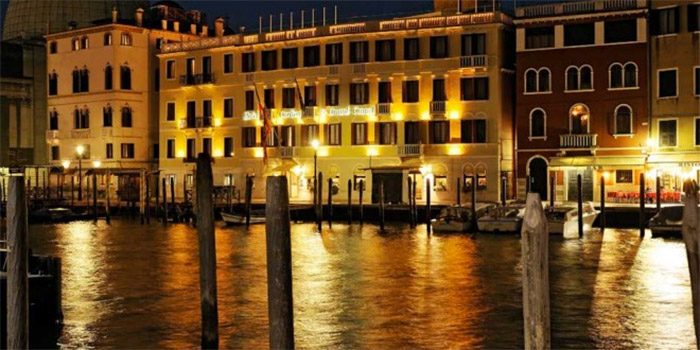 Different things to do
Are you looking for something more unique? At La Fenice Theater you can listen to the "New Year's Concert", a definitely quieter solution dedicated to great music and international art.
As an alternative you can choose to take part in party that is organized at the luxury hotels (such as Danieli), or at the Molino Stucky Hilton. There are many possibilities, and the weather is also very discriminating, which unfortunately remains uncertain until the end.
Suggested things to do
If it is your first vacation in Venice, and you are lucky enough that the weather is not tooo much cold on the 31st December our suggestion is to go to several bacari, eat some cicheti (venetian finger food) and approaching San Marco Square, where you can wait until midnight listening to live music and then watching the fireworks. It is the best solution but also the most genuine, which makes you live the real atmosphere of the city, and also the cheapest. After 1 pm, you can move from San Marco Square towards the neighbourhood and join a party in a pub near by or where your heart will lead.
Is it safe spending the New Year's Eve night in Venice?
Venice is a safe city, because there are no streets and cars, there are no relevant crimes and venetian people are not violent. They just want the tourist to respect their city.
However, New Year's Eve is an event that attracts more than 50-60000 people in a single square, so be careful and if you have children pay attention on them, because it is easy to get lost. With common sense you can spend a nice, happy and safe night
Pros and cons of New Year's Eve in Venice
Let's try to highlight the most important pros and cons of a New Year's Eve in Venice.
Pros
New Year's Eve in a beautiful location: St. Mark's Square
Venice, in this period, is full of people, colors and lights
A lot of prestigious and cultural events
Venice in winter has a unique atmosphere, that you must live at least once in a life
Cons
high prices for flight and accomodation, especially for the occasion
the risk of cold days and acqua alta (the tide peaks that occur periodacaly in Venice)
it is more crowed than usual
A preview of New Year's Eve in Venice
Here you can find a video that express the essence of the great New Year's party in Venice in San Marco Square, an excerpt of the event of the past few years.