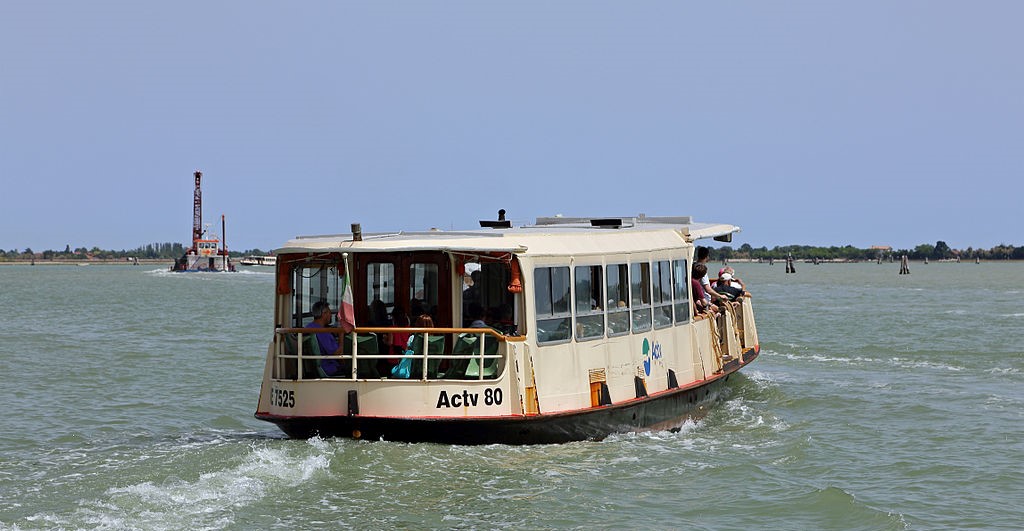 Line 4.1 and 4.2 are the two richest touristic vaporetto lines offered by the public transport agency ACTV in terms of stops available all around Venice. By taking those lines it is possible to visit the entire Venetian historic center and Murano island with only one means of transport.
Line 4.2 is part of the gira città lines  which sail off from Murano and navigate around Venice while stopping at the most popular spots of the city such as San Marco, the Giudecca island and the Biennale gardens. Then it sails back to Murano.
In this article you will find information on timetables, stops and travel suggestions for your next itnerary travelling with line 4.2. you will also find the difference between line 4.1 and 4.2 explained to help you best organize your next vacation in Venice.
Vaporetto line 4.2 ACTV
Line 4.2 travels around the external perimeter of the city, therefore it is the ideal line if you wish to enjoy a panoramic route in the Venetian lagoon and reach the island of Murano from any point of Venice you are at.
In the span of 2 hours the vaporetto line 4.2 sails off from Murano towards Fondamente Nove, makes all the stops located along the Grand Canal with an addititonal stop at the bus station Piazzale Roma. It then navigates towards San Marco stopping at the Giudecca Island and then goes back to Murano.
It is therefore a particularly complete line thanks to the number of attractions that you can visit by getting off at its stops.
If your aim is to reach Murano quickly, then we suggest you consider the more rapid line 3.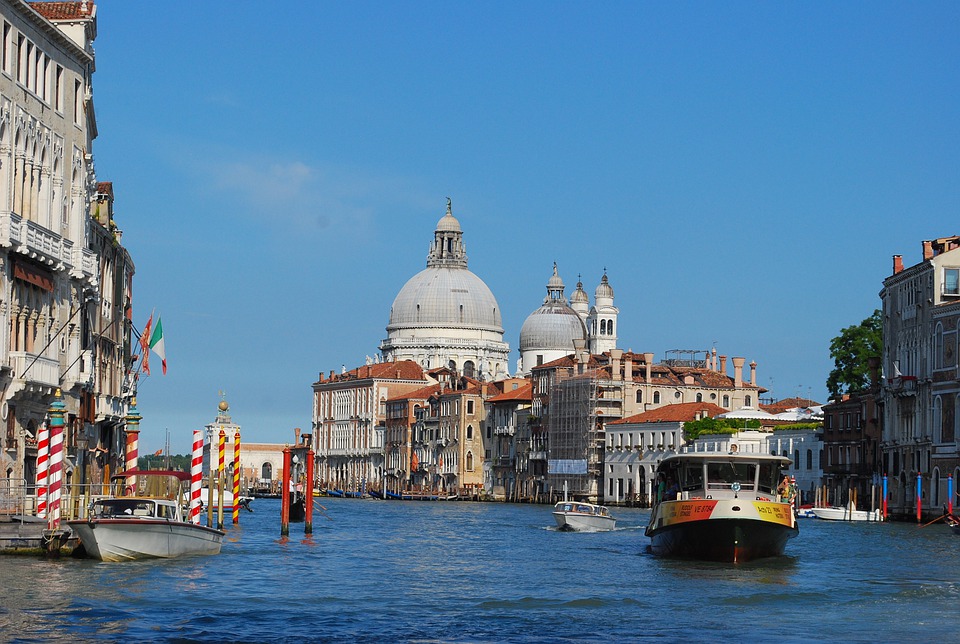 Difference between line 4.1 and 4.2
The main difference between line 4.1 and 4.2 is that they travel the same route in opposite directions.
We therefore suggest you keep reading this article in order to determine which line is better suited for your itinerary.
A second important difference consists in the timetables:
The last complete route for line 4.1 sails off at around 6:50 p.m. whereas 4.2 at 7:40 p.m.

 

Line 4.2 is partially actve during night time with rides limited to the route between Murano island and Fondamenta Nove. Differently, line 4.1 is active exclusively during daytime.
Let's now see more in depth all the stops and timetables of line 4.2.
Vaporetto Line 4.2 ACTV route and stops
After sailing off from Murano, the vaporetto line 4.2 navigates around Venice clockwise where it stops at the most popular spots located in the historic center. Its route comprehends the islands of San Michele, Certosa and Giudecca as well.
Then the water-bus sails back to Murano.
Please note that the busiest stops (usually those closest to the main attractions) have more than one platform, and all are located close to one another. Each pier is indicated by the name of the stop and then a letter in progression.
Bear in mind that the stops to and from Murano are on the same platform, not on the opposite sides of the canal. Be careful which direction the boat you are about to board travels to.
The itinerary of line 4.2 consists in these stops:
MURANO MUSEO "B"
MURANO NAVAGERO
MURANO FARO
MURANO COLONNA "B"
CIMITERO
F.TE NOVE "D"
OSPEDALE
CELESTIA
BACINI – Arsenale Nord: to reach Zattere you can take vaporetto Line 5.1 or 5.2 from this stop
S. PIETRO DI CASTELLO
CERTOSA (solo a richiesta)
S.ELENA – – Stadio P. L. Penzo "B"
GIARDINI BIENNALE "A"
ARSENALE "A"
S.MARCO-S.ZACCARIA "C" from this stop you can take the vaporetto line 1 to reach the Lido
ZITELLE "B"
REDENTORE
GIUDECCA PALANCA "B"
SACCA FISOLA "B": from here you can take the vaporetto line 2 to reach Rialto and the Gallerie dell'Accademia
S.MARTA
P.LE ROMA "D"
FERROVIA "D"
GUGLIE "A"
CREA
S.ALVISE
ORTO
F.TE NOVE "B"
CIMITERO
MURANO COLONNA "C"
MURANO SERENELLA
MURANO VENIER
MURANO DA MULA
MURANO MUSEO "A"
Here you can purchase your vaporetto tickets commission free! Buy online and skip the line at the box offices.
Online tickets and physical tickets are the same price!
75′: 9.50€; 1 day: 25€; 2 days: 35€; 3 days: 45€; 7 days: 65€
Line 4.1 or 4.2? Which one you shoud choose
In order to decide which vapoetto line to take, it is useful to consider in advance what attractions you would like to visit (and therefore which stops are closer to your destination) and check which one of the two lines will take you there in the shortest time.
Since these lines follow the same route in opposite directions, the last stops on line 4.1 will be the first stops on line 4.2 and vice versa.
Depending on which stop you are at, consulting a map check in which direction your destination is located, so then you can opt for one line instead of the other.
In doing so, remember that the stops of line 4.1 and 4.2 are the same. In some cases the two vaporetto lines stop at different piers, for instance F.te Nove "B" and "D", they are located few steps from one another.
For this reason, even in case of error you can get off at the next stop and in a few minutes get on the vaporetto of the other line.
Both line 4.1 and 4.2 are ideal for those tourists who want to complement their itinerary in Venice with a stop in Murano.
Coming back from Murano, if you want to get off at the train or bus station (stops "Ferrovia" and "Piazzale Roma"), we suggest you take the vaporetto line 3, which connects the island to the train and bus station in only 20 minutes.
Venice vaporetto line 4.2 timetables
Venice vaporetto line 4.2 ACTV is active every day from 6 a.m. to midnight with variable routes.
In Venice vaporetto timetables are subject to change and seasonal variation.
Although the changes are minor, we recommend always checking the official ACTV site – Line 4.2 and/or the timetables indicated on the displays next to the piers for up-to-date information.
With this premise, generally vaporetto line 4.2 ACTV travels the complete itinerary approximatively from 6:40 a.m. to 7:40 p.m. with rides available every 20 minutes.
The itinerary from first to last stop is about 2 hours long.
During the day some rides are limited to part of the entire route:
Between 6 and 6:40 a.m. there are routes available every 20 minutes from Fondamente Nove "D" to Murano Museo "A".
Rides from 8 p.m. to 8:20 p.m. are limited to Murano Museo B – San Marco.
Line 4.2 night service
Vaporetto line 4.2 is active during the day, in the evening rides limited to the route between Murano and Fondamenta Nove (between 8 p.m. and midnight).
There is no exact night-time equivalent that follows the same panoramic route.
A similar route is followed by the nocturnal line NMU which is active from 11:45 p.m. to:  a.m. approximately.
This evening route is therefore useful only to those people who want to visit or return from Murano in the evening or at night.
The only stop in Venice is Fondamenta Nove, which is at a walking distance of about 30 minutes from the railway and bus stations (Piazzale Roma). An alternative to walking is using a water taxi.
Vaporetto line 4.2 stops and attractions
Travelling with the vaporetto line 4.2 you can combine a visit to the main points of interest of the city such as San Marco, the Biennale exhibition and the Arsenal with a visit to the Murano island, renowned for its artistic glasswork production.
In addition to the most characteristic places of Venice, ravelling with this line you can visit some of the major islands of the Venetian archipelago such as Giudecca, San Michele and Certosa.
Here are  some of the main attractions you can visit by travelling with the water-bus line 4.2:
Vaporetto line 4.2 ACTV tickets and fares
Venice vaporettos are operated by the local transit authority ACTV. To travel on the water-buses, you'll need either a single-fare ticket (valid for 75 minutes), all-day or multi-day ticket (available up to 7 days).
ACTV vaporetto tickets allow unlimited travel on public water during the validity period of the ticket you purchased.
In the following paragraph we'll look into fare prices, the difference among the tickets and where it is more convenient to buy them.
Vaporetto ticket prices
Based on the number of days of your stay in Venice, you can choose among a variety of tickets sold by the public transit agency ACTV.
Since the fares are fixed by ACTV, you will find the same prices both at the ticket office and online.
In order to save up on transport money, we suggest you organize your schedule to make the most efficient use of your vaporetto 4.2 tickets.
Vaporetto tickets are available at the following prices:
single fare ticket (75′): 9,50€
1 day ticket: 25 €
2 days ticket: 35 €
3 days ticket: 45 €
7 days ticket: 65 €
Here you can purchase your vaporetto tickets commission free! Buy online and skip the line at the box offices.
Online tickets and physical tickets are the same price!
75′: 9.50€; 1 day: 25€; 2 days: 35€; 3 days: 45€; 7 days: 65€
Which ticket is more convenient
In order to decide which vaporetto ticket would be the most convenient option for you, you should consider how many days you will stay in Venice, your itinerary and how many times a day you will commute with public transport.
Vaporetto line 4.2 offers a panoramic route all around Venice. It is therefore possible to spend an entire day visiting the major points of interest of the city travelling by boat.
We'd suggest considering the distance of your destinations and how to reach them ahead of time, in order to choose the most suitable ticket for your needs.
If you plan on travelling mainly by vaporetto to move through the various parts of Venice (some of them can be quite far to reach by walking if you are on the opposite side of the city), perhaps adding a visit to the islands of the Venetian archipelago to your itinerary, you will probably take the water bus multiple times during the day.
In this case if you use public transport at least three times in one day, then you should consider purchasing either a daily or multi-day pass.
On the contrary, if your hotel is located in the historic center and you plan on walking to discover the city, taking the vaporetto only to reach the most distant parts of the city or to go back to your hotel, then a single fare ticket might be the most cost-effective choice.

Buy vaporetto line 4.2 tickets
Vaporetto line 4.2 ACTV tickets are available both online and at the box offices located next to the vaporetto platforms in Venice.
The online and in-person prices are the same, however there are some advantages that only purchasing your tickets online can offer.
Buy tickets online
Most online websites allow you to purchase your vaporetto line 4.2 tickets directly on your smartphone, so you can skip the long queues in front of the box offices and go to the vaporetto platforms straight away.
You can buy your tickets ahead of time, because their validity is calculated upon the first validation.
The opportunity to buy tickets online can prove very useful even when you're alrealy discovering Venice. Tourists often risk missing their water-bus because of the long lines at the box offices or find themselves at stops with no ticket stands.
For this reason buying online is practical. Moreover, you'll have your tickets on your phone, so you won't risk losing or demagnetizing them by accident.
Buy tickets at physical ticket offices
You can buy vaporetto line 4.2 tickets in person at the ticket offices in Venice (usually located next to the platforms) or in authorized retailers in the old town (recognizable by the ACTV logo)
Buying tickets at the box offices can be useful if you need to ask for directions and information, however be aware that some sellers might not speak English.
Many are the instances in which purchasing tickets in person is impractical.
ACTV ticket offices in Venice are small box-offices located outdoors, and of course can have very long queues of tourists waiting in front of them.
The space in front of the ticket offices is not covered, so you might find yourself waiting in line, exposed to the elements.
Waiting under the sun or the rain is certainly really uncomfortable, especially when travelling with children, elders or people with disabilities.
Vaporetto line 4.2 ACTV tickets: discounts and reductions
Here are some reductions available for vaporetto Line 4.2 ACTV:
Children under the age of 6 travel for free
Young people between the age 6 and 26 can buy discounted 3-day tickets
Passengers in a wheelchair can purchase discounted single-fare tickets. If accompanied, the other person does not pay.
The vaporetto line 4.2 ACTV tickets are not refundable and cannot be exchanged.
You must validate tickets before boarding. Look for the white electronic card reader near the vaporetto platform.
Services in the event of fog or high tide
If you visit Venice during fall or winter, you are likely to face the very typical phenomenon of high tide. In order to be fully prepared and equipped, we suggest checking the tidal flow.
In case water reaches 95 cm, vaporeto line 4.2 rides will be temporarily modified. For further information we advise you check the dedicated official ACTV page for up-to-date information.
From October to March, fog covering the canals is also very frequent. When visibility is under 150 m the section of the path between Bacini and Santa Marta via Giudecca canal will be temporarily suspended until suspended until visibility conditions are improved. For more details we suggest consulting the official ACTV site.
These phenomena occur yearly, therefore our suggestion is to organize a flexible itinerary including a number of alternative destinations in case of bad weather and high tide.
Lastly, please note that the vaporetto line 4.2 is completely accessible to wheelchair users and strollers.