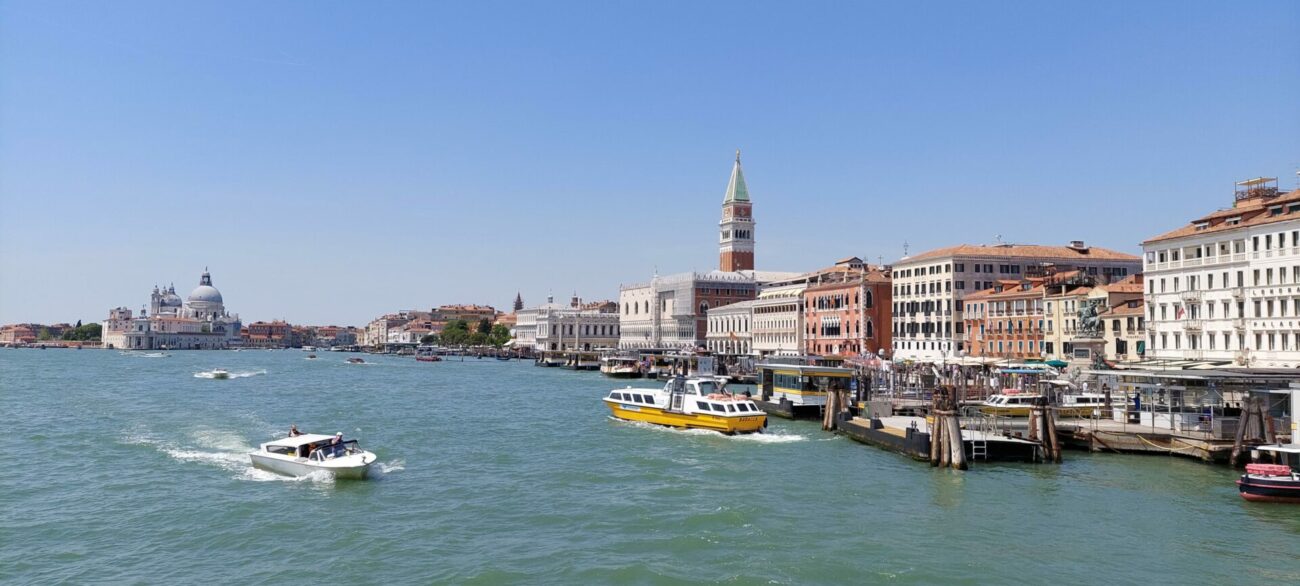 Vaporetto line 14 is one of the lagoon lines that start their itinerary at San Marco – San Zaccaria and reach the island of Burano making an intermediate stop at the Venetian Lido.
This line offers passenger and bicycle transport service and completes its itinerary in around 55 minutes, giving you the opportunity to enjoy the picturesque view over the Venetian Lagoon.
In this article you will find information on timetables, stops and points of interest located near each stop of vaporetto line 14.
This way you will be able to organize your next trip to Venice easily and explore the the lagoon without worries.
Vaporetto line 14 route and stops
Vaporetto line 14 ACTV begins its journey at San Marco – San Zaccaria and sails off towards the Lido and then ends its path ends in Punta Sabbioni. At certain times, that we shall see in more detail, the vaporetto continues its route towards Burano.
Let's see all the stops of the itinerary in detail:
S. MARCO – SAN ZACCARIA "A"
LIDO S.M.E. "C"
PUNTA SABBIONI
BURANO
Please note that the busiest stops (usually those closest to the main attractions) have more than one platform, and all are located close to one another. Each pier is indicated by the name of the stop and then a letter in progression.
Line 14 timetables
Before illustrating the vaporetto line 14 timetables in detail, be aware that timetables are subject to seasonal variation – they may change slightly between summer and winter
Vaporetto line 14 completes the itinerary from San Marco to Burano every hour at minute 15 starting from 8:15 a.m. to 4:15 p.m.
Every hour at minute 45 from 5:45 a.m. to 11:45 p.m. the itinerary is limited to the stops between San Marco and Punta Sabbioni.
As far as the return route is concerned from Burano to San Marco, the complete itinerary is available from 9:30 a.m. to 5:30 p.m. every hour.
Every 30 minutes from 4:30 a.m. to 12:30 p.m.  approximately, the itinerary is limited to the stops Punta Sabbioni – Lido – San Marco.
The vaporetto tops only at Punta Sabbioni and San Marco between 6:30 and 8.30 during weekdays. Rides are available every 30 minutes.
Here you can purchase your vaporetto tickets commission free! Buy online and skip the line at the box offices.
Online tickets and physical tickets are the same price!
75′: 9.50€; 1 day: 25€; 2 days: 35€; 3 days: 45€; 7 days: 65€
Vaporetto line 14 stops and attractions
By taking the vaporetto line 14 it is possible to closely observe the lagoon and visit a number of points of interest located in Venice and in the Venetian islands. Let's see what you can visit more in detail:
SAN MARCO – SAN ZACCARIA: this stop is located few steps away from the St. Mark's Basilica, Palazzo Ducale and the Bridge of Sighs, which you can enjoy for free from the bridge Ponte della Paglia. If you visit Palazzo Ducale, the ticket often includes a guided tour of the Bridge of Sighs..
LIDO SANTA MARIA ELISABETTA : this is the last stop of vaporetto line 1. Here you can enjoy a bycicle ride around the venetian lido to discover the naturalistic and historical beauty of this area of Venice.
PUNTA SABBIONI at certain times of day it is possible to reach Punta Sabbioni via public autobus service. In Punta Sabbioni it is possible to visit Forte Treporti also called Forte Vecchio. It is one of the best preserved nineteenth-century fortresses of the northern Venetian lagoon.Today this fortess is part of the museum itinerary "la Via dei Forti"
BURANO:In Burano you can discover the vibrant and colorful houses, the symbol of this place. There is one among them that you should not miss: the house of Bepi Suà, also known as Bepi delle caramelle (Bepi who gives out candy).
He was called so because he used to sell candy in the island's square. Every day he used to draw a new picture on the walls of his house, and now it has become one of the most peculiar in the whole island of Burano.
Another hallmark of this place is the art of merletto (crochet).
Walking around the island you will certainly be able to admire and visit numerous artisanal shops where local women sell and display their works of art.
Line 14 ACTV tickets and fares
Venice vaporettos are operated by the local transit authority ACTV. To travel on the water-buses, you'll need either a single-fare ticket (valid for 75 minutes), all-day or multi-day ticket (available up to 7 days).
ACTV water-bus tickets allow unlimited travel on public water during the validity period of the ticket you purchased.
Based on the number of days of your stay in Venice, you can choose among a variety of tickets.
Since the fares are fixed by ACTV, you will find the same prices both at the ticket office and online.
In order to save up on transport money, we suggest you organize your schedule to make the most efficient use of your vaporetto tickets.
Vaporetto tickets are available at the following prices:
single fare ticket (75′): 9,50€
1 day ticket: 25 €
2 days ticket: 35 €
3 days ticket: 45 €
7 days ticket: 65 €
Water-bus line 14 discounts and reductions
Here are some reductions available for vaporetto Line 14 ACTV:
Children under the age of 6 ride free
Young people between 6 and 26 can buy discounted 3-day tickets
Passengers in a wheelchair can purchase discounted single-fare tickets. If accompanied, the other person does not pay.
The vaporetto line 14 ACTV tickets are not refundable and cannot be exchanged.
You must validate tickets before boarding. Look for the white electronic card reader near the vaporetto platform.
Here you can purchase your vaporetto tickets commission free! Buy online and skip the line at the box offices.
Online tickets and physical tickets are the same price!
75′: 9.50€; 1 day: 25€; 2 days: 35€; 3 days: 45€; 7 days: 65€
Which ticket is more convenient?
Clearly the convenience of each vaporetto ticket depends on some variables such as your itinerary, period of stay and frequency of use of public tranport.
Water-bus line 14 allows you to move relatively quickly between different points of the Venetian lagoon. If you intend on using the vaporetto to only visit one of the stops, then two single fare tickets valid for 75 minutes (for the outward and return journey) should be sufficient
Instead, if you are planning a larger itinerary that includes multiple vaporetto trips during the day, if the trips are at least three times in one day, then a day ticket would be the most cost-effective option.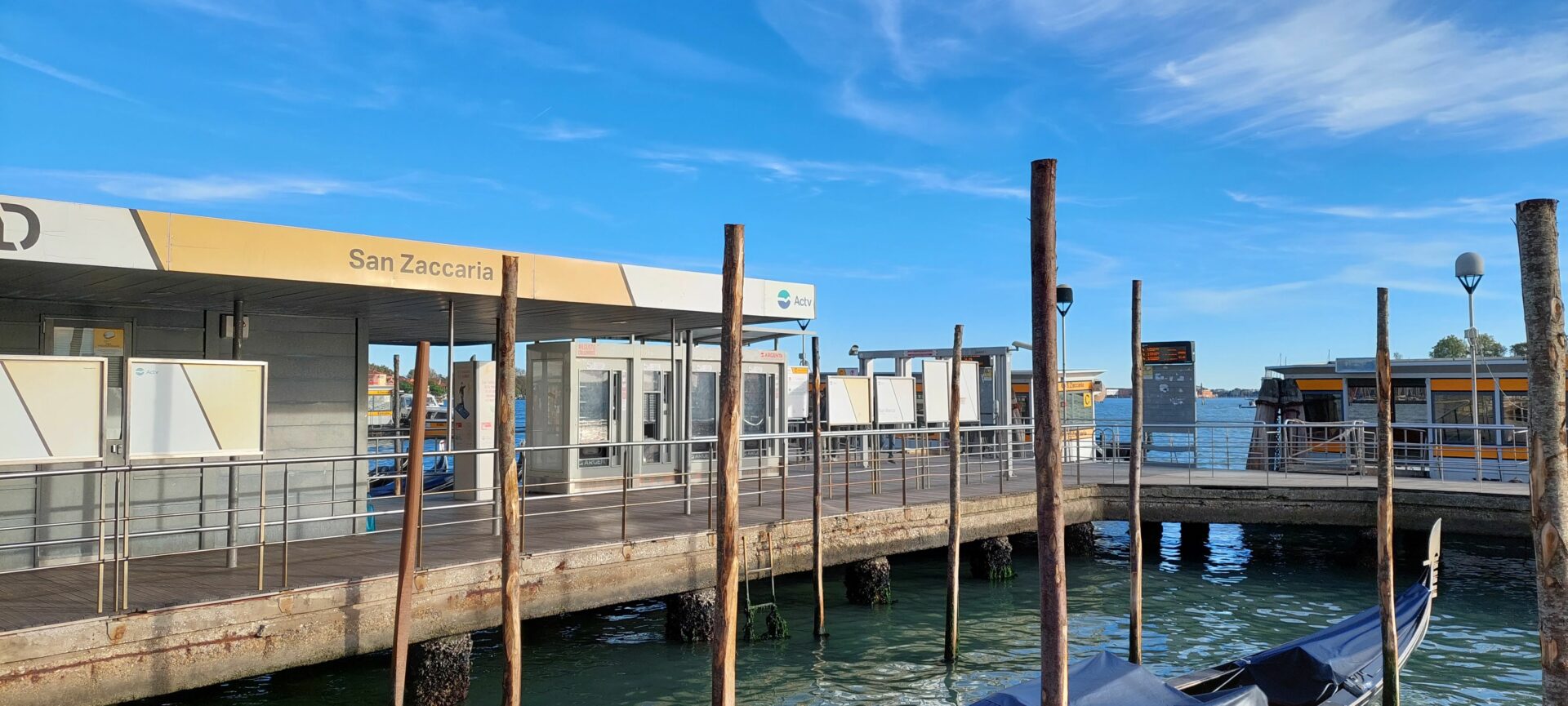 Buy vaporetto line 14 tickets
Vaporetto line 14 ACTV tickets are available both online and at the ticket offices located next to the vaporetto platforms in Venice.
The online and in-person prices are the same, however there are some advantages that only purchasing your tickets online can offer.
Buy tickets online
Most online websites allow you to purchase your vaporetto line 14 tickets directly on your smartphone, so you can skip the long lines in front of the box offices and go to the vaporetto platforms straight away.
You can buy your tickets ahead of time, because their validity is calculated upon the first validation.
The opportunity to buy tickets online can prove very useful even when you're alrealy discovering Venice or its islands. Tourists often risk missing their water-bus because of the long queues at the box offices or find themselves at stops with no ticket stands.
For this reason buying online is practical. Moreover, you'll have your tickets on your phone, so you won't risk losing or demagnetizing them by accident.
Buy tickets at physical ticket offices
You can buy vaporetto line 14 tickets in person at the ticket offices in Venice (usually located next to the platforms) or in authorized retailers in the old town (recognizable by the ACTV logo)
Buying tickets at the box offices can be useful if you need to ask for directions and information, however be aware that some sellers might not speak English.
However, many are the instances in which purchasing tickets in person is impractical.
ACTV ticket offices in Venice are located outdoors, and naturally can have very long queues of tourists waiting in front of them.
The space in front of the ticket offices is not covered, so you might find yourself waiting in line, exposed to the elements.
Waiting under the sun or the rain is certainly really uncomfortable, especially when travelling with children, elders or people with disabilities.